You've defined your keywords and phrases, added content to your website, and now you're ready to move on to the next phase of our DIY SEO for photographers guide… all about images!
Let's face it. They're all over your website. Hundreds, sometimes thousands depending on how long you've been in business.
So how can you use this to your advantage? Let's break it down…
1.  Every image on your website is a representation of your brand.
Keep the look and feel consistent. Make sure you're proud of the work you are showcasing. Your portfolio can make or break a sale.
2. Set up your image details properly.
Again, consistency is key. You'll hear that a lot around here. Before you even upload an image, make sure that the filename is focused on the keywords/phrases of your page/post. Once uploaded, add your alt text and again make sure that the keywords/phrases are included. In the example below, our key phrase is "DIY SEO for Photographers Guide".
TIP:  Add your keywords/phrases and your business name. After a little time, check out Google image search.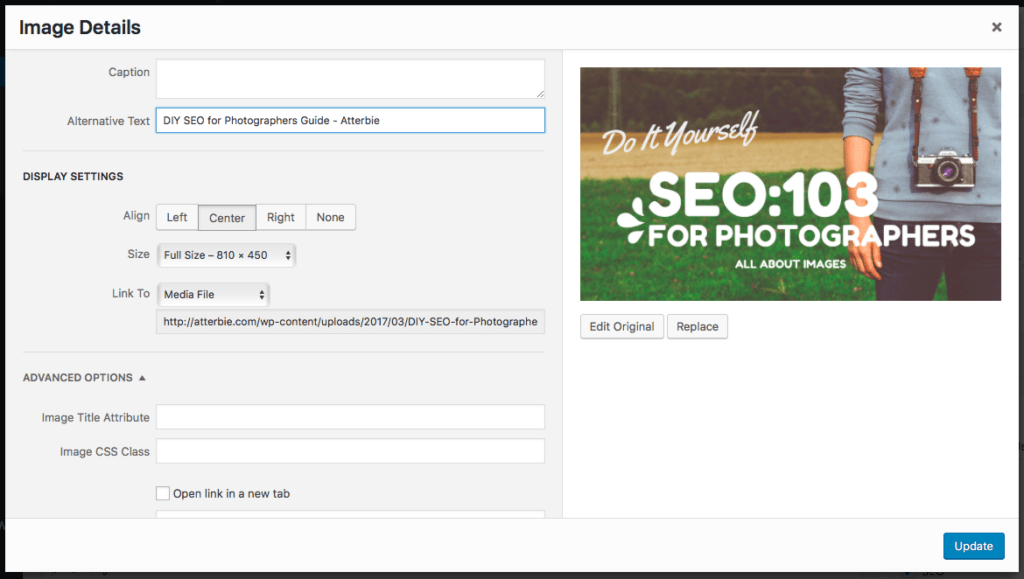 3. Use images to break up your content.
Any blog post or website page should have around 300 words of content in order for best case on-page optimization. That said, posts don't have to read like the intro to your favorite novel. Use the beautiful images you've so carefully chosen for your website in order to break up the copy and keep your readers' attention.
4. Placing images throughout your site.
When placing photos throughout your website, keep in mind the standard screen size. Photographers often have huge beautiful monitors that allow them to meticulously edit their images. This is AWESOME for anyone who also has a wildly large screen, but here's the thing… there's this whole slew of people who work on laptops or view your website on their cell phone. Every now and then, pull up your website on a device you don't usually use and make sure it looks/feels exactly how you want it to (especially the images).
5. Image size.
Assuming you have a gazillion images on your site (or will soon), the size of your images will have a major impact on how quickly your site loads. For crazy details on image size and how to make every single image look amazing on your site, check out this article from the good developers at Google.
Go ahead and apply these tips to each and every image on your website. If it feels overwhelming, go ahead and take one page or one post at a time. The results you see will motivate you to finish the rest.
We'd love to hear your ideas for the fourth step in our DIY SEO for Photographers Guide! Leave all of your SEO questions in the comments below and we'll get you answers.  🙂