Hey friends! I'm back with new DIY SEO for photographers tips! Today we're going to deal with filenames and SEO image titles. I totally understand that when you deal with hundreds or even thousands of photos every single month, the idea of creating custom filenames for each image is incredibly daunting. In fact, I'm going to go ahead and assume that it's the absolute last thing that you want to worry about. When you're knees deep in editing and just doing your best to meet deadlines, chances are that you're saving every image with a title that will help you remember who it belongs to. Unfortunately, that is no bueno when it comes to filenames and SEO image titles!
Let's say for example, that a lovely family comes to visit you for holiday photos. Your session is ah-mazing and you're obsessed with what you're seeing straight out of your camera. You rush off to processing as soon as the session is over. The images are backed up, edited, and just as you're about to click on 'export' from Lightroom or Photoshop – you're faced with a decision… What are you supposed to call the darn things?
Enter the name game!
If you're one of the many who relies on the standard family name and photo number for the filename, pa-lease keep reading.
For my own peace of mind, I'm going to go ahead and assume that these photos will end up published on your site. (Hello blog post opportunity!) Anyways… if you don't customize the filenames for your images, you are missing out. Every single filename and SEO image title is a legit opportunity to boost your SEO and plug your primary keywords/phrases!
Need to see it in order to believe it? Check out this screenshot of my media folder and focus on the area that the giant golden arrow is pointing to. The bold type that begins with 'Atterbie'. This is your filename.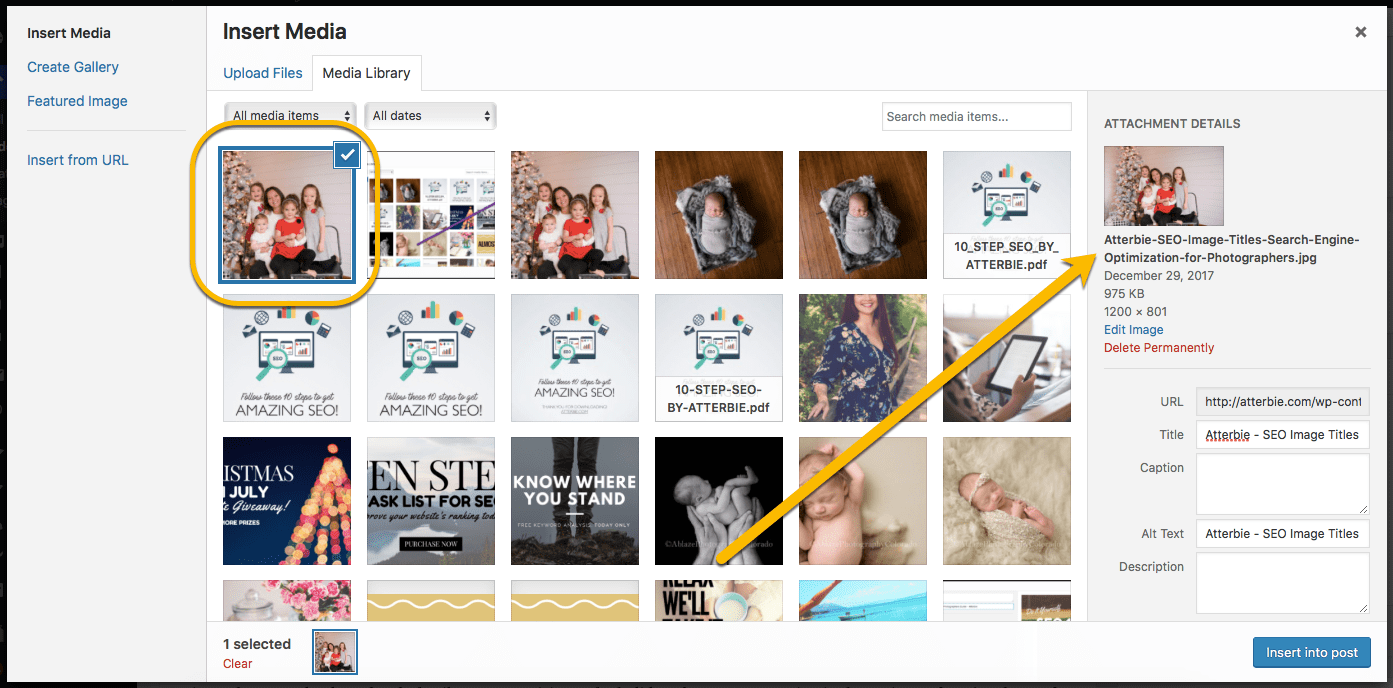 Once a media file is uploaded to WordPress, this filename cannot be changed. This means that you need to get it right the first time or you'll end up paying the price when you want to boost your SEO rankings and end up having to re-upload every single one of your images. I've been there, done that, and don't ever want to do it again! Please just take my word for it.  😉
How is a filename used?
The filename that you choose will be used to identify the image within your media library, to create a unique URL for the attachment file, and will serve as the default text for any fields that left blank (like the title or alt text).
Please remember that a filename is not the same as an SEO image title. Scroll back up to that gorgeous screenshot above (brought to you by my beloved SnagIt). The image title is an editable field located beneath the URL. This is where you'll also find the alt text field.
What should I use for my filename and SEO image title?
Deciding what to name your files is easy peasy. Here's a simple formula that you can use to get it right every time:
Business Name + Keyword (Variation) + Identifier
Using this method, I named the file above:
Atterbie – SEO Image Titles – Search Engine Optimization for Photographers
If I was the photographer who took this image (my fave Courtney at LBP), I'd name it the following:
Lovebug Photography by Courtney Ucker – Cuyahoga Falls Family Photographer – Amy Family 1
Here's another way to view image details:
You'll notice in this screenshot below that I've used my golden arrow to point out the media file URL. Check out the end of that long URL, 'Aterbie-SEO-image-title…" This is automatically populated and cannot be changed once the file is uploaded. So yet again I remind you, no – implore you, get it right the first time! Put a little thought and effort into what you choose to name your media files. It will pay off in the long run, I promise!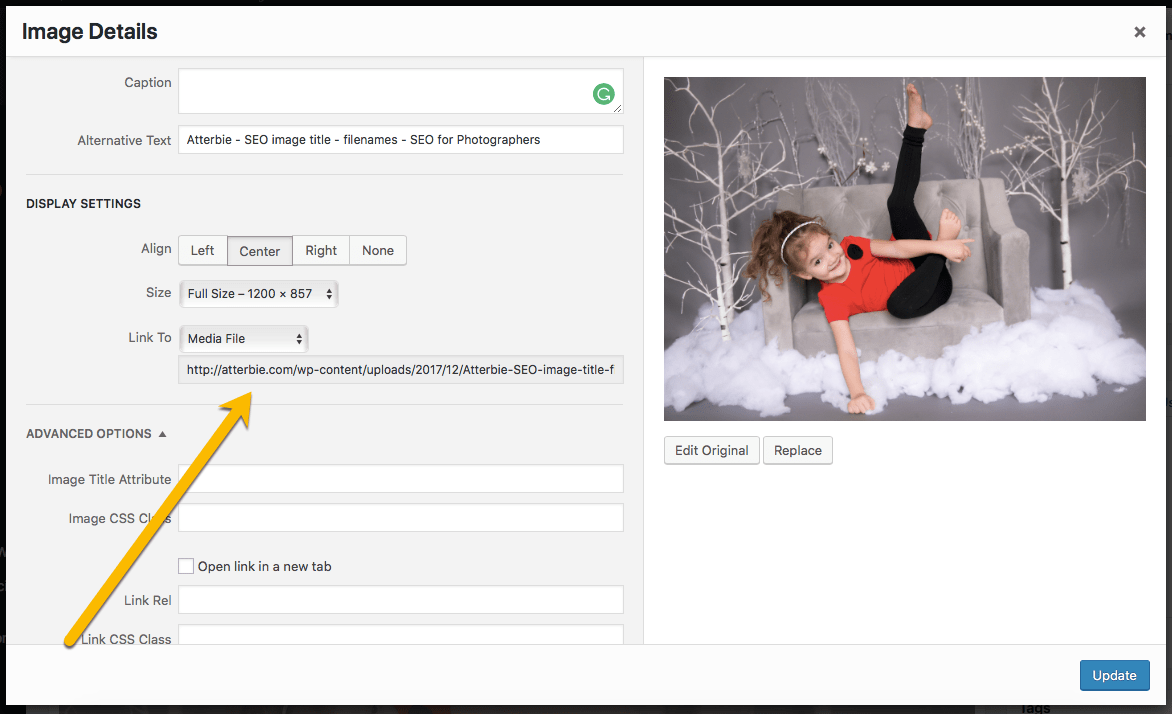 Make sense? Good. Here's the rule. Do this for every single image that you will use on your website. Photographer or not, filenames and SEO image titles are absolutely vital when it comes to getting your site to rank above the competition. With ever-changing algorithms, it is important to make sure that all of your bases are covered. You never know what the next 'most important' factor will be.
If you are ready to get your site in front of potential customers and trying your darnedest to get your SEO in order but just can't seem to get results, please get in touch with me! I'd love to chat with you about your goals and come up with a plan of action steps in order to achieve them. We'll make sure to include checking every single filename and SEO image title on our to-do list.  😉 
Here's how you can get in touch with me:
Amy at Atterbie
PO Box 951, Hudson, OH 44236
Email: amy@atterbie.com | Call: (234) 380-1753
I can't wait to hear from you!  Amy
Atterbie is a digital marketing services agency located in Hudson, Ohio. We specialize in website development, search engine optimization (SEO), local SEO, content writing (blogging), and digital marketing strategy.