Spring is my favorite season.
It brings with it the promise of summer, sunshine, warmer weather, beautiful flowers, and for some odd reason – the sensation to clean. Maybe it's because the windows can be opened without letting in crazy cold gusts of wind. Maybe I just like being able to walk outside without having to brace myself for the frozen feeling that will take over as soon as I open the door.
Whatever the cause, I love spring and I am ready to celebrate it.
But wait… it's February. And wait… I'm in the midwest. So yes, I likely sound like a crazy woman, but guess what? It was 75 degrees two days ago! Seriously.
The crazy mid-winter heat didn't last and it definitely SNOWED (yes, snowed) this morning but none the less, I'm ready for Spring's official arrival and I want to celebrate this warm weather madness with a spring clean-up deal. So here it is…
Now through March 15, 2017 purchase the Spring Clean-Up Package and receive:
Complete once-over for your website's search engine optimization utilizing two focus keywords/phrases of your choice.
Keyword ranking analysis before and after work is complete.
We will comb through up to 4 pages and/or posts on your site to make sure that you are following best practices for SEO.
All necessary changes will be made on your behalf.
Items we focus on include:

Website title
Website description and snippets
Page titles
Page descriptions and snippets
Blog post titles
Blog post descriptions and snippets
Blog post content (including length of each post)
Images – titles/descriptions/alt-text
Links
We literally do all of the work for you…
Just allow us access to your site and provide the keywords you want to focus on.
COST:  One-time fee of $299
Upgrade your search engine optimization Spring Clean-Up package to include additional pages for $79 each.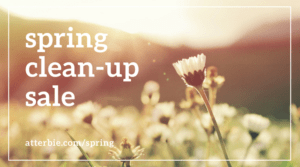 [wp_cart_button name="Spring Clean-Up Sale" price="299.00″]
How exactly does this work? Thanks for asking! 🙂 
Email us at info@atterbie.com with a link to your website.
Once your purchase is confirmed, we'll send you an email with the items we need to get started…
Login information for your site (we want to see the details!)
The two keywords associated with your site that you'd like focused on.
A list of the four pages you would like cleaned up.
We'll do the rest! How easy is that?!
Your Spring Clean-Up will be completed within 72 hours of your purchase.
You will receive a report showing the changes in your website's search engine ranking 14 days after the project is complete.
Email info@atterbie.com to purchase your search engine optimization Spring Clean-Up Package today!
We can't wait to hear from you.  🙂
SEO Hudson Ohio | SEO Ohio | Search Engine Optimization | SEO for Photographers